Getting tired of endless grinding in MMORPG? Time is taken by work or study? This game might to plyaers' appetite. The global browser game platform is going launch a fast-paced ARPG, which allow players to enjoy fun of classic RPG and pleasure of action game but less tedious grinding and fuss.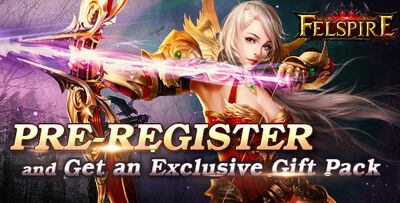 Game Trailer: https://www.youtube.com/watch?v=x7lkDwpCAh8
The game set in the fantasy world Eremos, where the mysterious Felspire existed. As a portal from underworld to land of mankind, evils are waiting for an opportunity to take over it and enlarge their territory. For human, Felspire also rumored as a source of infinite power to keep the whole world running. As the both troops of human and Evils are approaching the Felspire, what will be happen next? 
What makes the game different from other is tempo/process will be quicker than average RPGs, because of the intelligent auto combat system which able to help players skip the tedious grinding and enjoy more fun of class RPG. Players don't need to spend plenty of time on hard work of grinding, the game will do it for players. 
Random loot system allows player to collect thousands of gears. Players will never know what next epic weapon drop on floor when killing every creature. Refining System enable players to create the unique set of gears on their own! Various dungeons with different ways of win and set up record. Demon Abyss, Temple of Death, Elite Challenge, Realm Dungeons, and every Dungeon needs different strategy and cooperation when chose team challenge. 
Join the Guild and GvG to explore the huge world of Eremos with good buddies. Rich-featured Guild system including Guild Hall, Alchemy, Guild Vault, Realm, Flea Market, giving the chance to players to build their own clan. Contribute your power to the Guild and fight for the greatest honor in the GvG battle. 
Sign up and get extra rewards: http://goo.gl/q0Szm9
Community content is available under
CC-BY-SA
unless otherwise noted.